As we speak, cannabis continues to become legal in more US states, and a whole string of celebrities are 'stepping out of the cannabis closet' and making their love known for the wonderful green herb. In fact, many have their own cannabis brands today.
In the past, the idea of celebrities consuming cannabis in any way was the stuff of tabloids and magazine articles only. There were laws in place, after all, that prohibited the sale and purchase or consumption of marijuana out in the open.
But now that the drug's legality and popularity have spread like wildfire, many celebrities have not only admitted to using the plant but they have also cashed in on what is considered a booming industry today.
Suffice it to say, cannabis has gone mainstream and in a very cool way indeed. Here's a list of celebrities who have their very own cannabis brands:
Snoop Dogg
The celebrated musician, rapper and actor released his cannabis brand in 2015 dubbed "Leafs by Snoop", a company dedicated to cannabis flower and edibles. Based in Ontario and with Tweed as a partner, Snoop's brand mainly focuses on selling a very 'California Cool' kind of product which focuses mainly on cannabis flowers, oils and edibles.
The musician says that Leafs is truly the first mainstream marijuana brand and a first of its kind, something he is proud to be at the helm.
Being wildly popular in the US, Leafs is just as popular in Canada today, thanks to continued growth and distribution efforts by Tweed. However, as of late, Snoop has also partnered with Seedo to help encourage customers who want to easily grow their own herb in urban areas.
Willie Nelson
Willie is loved by many as a poet, actor, songwriter, musician and activist. Aside from making some of the best country music albums, he has been actively involved in the legalisation of cannabis.
He founded Willie's Reserve in 2015, a Washington-based company with the sole purpose of translating Willie's image of smoking cannabis to actual products that people can start using. Today, the company is hailed as one of the first celebrity-endorsed cannabis producing companies. It emphasises on the positive relationship it has with its producers – even offering online visitors an opportunity to meet the farmers and get to know more about each cannabis producing farm.
Willie's products became widely popular in Washington and Colorado the following year. Hemp-infused chocolates made by his wife, Annie, were added to the product lineup in 2017, with Willie's Remedy hemp coffee gaining a lot of praise in 2018.
The same year, Willie's company raised millions of dollars to roll out an outdoor-grown only product and expand his wife's edible product line into Colorado. In fact, Annie's edibles are some of the most sought after in the legal celebrity-owned cannabis sector with unique products like Roasted Cacao Nibs, Chocolate Almond and Maui Espresso Bean.
Tommy Chong
The much loved Canadian-American actor, comedian and musician is known all over the country from his "Cheech and Chong" days. Today, Tommy is a cannabis-rights activists who is still celebrated for his cannabis-themed comedy albums and movies with fellow Cheech and Chong star, Cheech Martin.
In 2015, Chong's Choice came into inception in Colorado, after which Tommy expanded the product into Washington in 2016. The brand is now easily available across six key US states: Washington, Oregon, Montana, California, Colorado and Arizona.
Since forming the brand, Tommy has also rebranded his original lineup of pipes and bongs into "Chong's Choice", offering customers a good dose of custom flower jars, pre-rolls, cartridges and edibles. Another brand includes Cheech's Private Stash which offers an interesting array of vapes, pre-rolls and flowers.
Drake
Drake happens to be another mainstream celebrity who has launched his own cannabis brand based in Toronto and in partnership with Canopy Growth.
In what came known to be as 'recent news', Drake will retain 60% interest in the soon-to-be-launched brand, while the remaining 40% will be retained by Canopy Growth – a cannabis promoting company which has partnered with many celebrities in the past like Jay-Z, Snoop Dogg, Melissa Etheridge and Seth Rogan to help them promote their cannabis brands.
Apart from cannabis products, Drake's company will also sell medicinal herbal extracts, herbal teas, hookahs, pipes, rolling paper and clothing.
Melissa Etheridge
The Grammy-winning guitarist, singer, songwriter and activist decided to become a part of the cannabis industry due a general lack of middle-aged women in the industry. Plus, owing to her positive experience with medical cannabis when she used the herb to deal with chemotherapy-related pain, she wanted to make the herb's 'healing powers' accessible to all.
Etheridge Farms is now a hotspot for some of the best-quality flowers and edible products, including gingersnap weed cookies and other baked goodies. In fact, among Melissa's most sought after products includes a cannabis-infused lavender cream.
Mike Tyson
The former Heavyweight champion formed Tyson Ranch in 2017 – a cannabis resort of sorts with some of its key highlights being an amphitheatre, edibles factory and an upscale campground which spans over 40 acres.
At least 20 acres of Tyson Ranch are dedicated to master grower cultivation facilities. The site also features cannabis research facilities, a supply store and a hydro-feed plant. Mike's flowers and concentrates are available throughout Cannabis dispensaries in California and he also owns Tyson Holistic Holdings which sells premium-quality hemp-infused products.
The Game
According to a High Times piece published in 2016, the American actor and rapper became the very first celebrity to own a cannabis dispensary, one which developed branded strains of a variety of cannabis flowers and concentrates.
Known as Trees by Game, one visit to the website and cannabis lovers are greeted by a message from West Coast hip hop icon himself: "Change your game with premium hand-picked cannabis".
Although it's unclear what kind of cannabis products the rapper sells, it's still hailed as 'California's finest flower'.
The Trailer Park Boys
Ricky, Julian and Bubbles from The Trailer Park Boys absolutely love their herb, not only on the hit Canadian show about a ragtag group of buddies living in a trailer, but also in real life.
Launched in 2018, OrganiGram is a brand that goes well beyond comedy. According to the Trailer Boys, it's a recreational brand that focuses on premium products for those who just want to 'chill out'.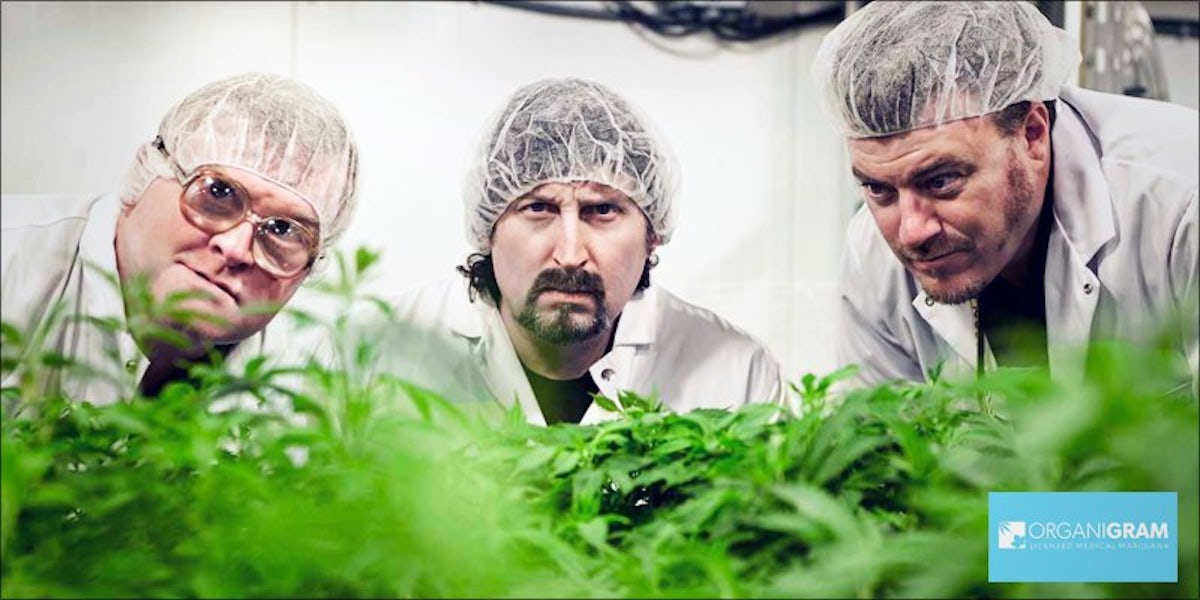 The recreational products at OrganiGram offer four key experiences under the brand's name: Edison Cannabis Co, Edison Reserve, ANKR Organics and Trailblazer. The company is known for providing an exceptional service and loved by not just recreational but cannabis lovers as well since OrganiGram has now made medical cannabis available 'coast to coast' in the US.
Montel Williams
Williams, best known as an actor and radio talk show host, launched Lenitiv in 2016, a unique line of medical cannabis products.
Marketed under the Lenitiv Scientific brand name, Lenitiv offers high-quality hemp-derived CBD products to deliver a unique experience to those suffering from everyday ailments like anxiety, stress, depression, loss of appetite, etc.
The radio talk show host is an avid supporter of medical cannabis law reform and has also worked hard to get medical cannabis legislation approved in New Jersey, New York, Connecticut, Pennsylvania and Ohio. In fact, being a decorated former naval officer, he has led the push for serving and retired military veterans to legally access the herb for its medicinal properties, but without worrying about losing their service benefits.
Ricky Williams
Ricky Williams, whose actual name is Errick Lynne Williams Jr., is not only a well-known former NFL star but also quite infamous for being a marijuana user. However, it's reported that the American football player lost nearly $10 million in pay and potential endorsements during his career due to marijuana use.
Ricky now hopes to cover his loses with the 2018-launched cannabis brand Real Wellness (RW). Described as a brand that focuses on helping users create a flexible and active lifestyle and bask in the warmth of the journey towards self-healing – RW offers a unique line of herbal-based and CBD-infused wellness products to help people maintain balance as well as peace in their lives.
Being a student of Chinese herbal medicine and Ayurveda, Ricky offers medical cannabis lovers a variety of wonderful options in the form of salves, oils, creams and more, all infused with the goodness of CBD and naturally occurring herbs to relieve headaches, stress, anxiety, depression and a range of other common ailments.
Seth Rogen
No celebrity cannabis brand list is complete without the Pineapple Express star, right?
In 2019, Rogen partnered with Evan Goldberg to launch Houseplant, a recreational cannabis company which was formed in collaboration with the poster child for all things cannabis – Canopy Growth.
The very first strain that came about as a result was Houseplant Sativa, with the Houseplant Indica and Houseplant Hybrid strains, along with pre-rolled joints and soft gels following throughout 2019.
Closing Thoughts
Were you surprised to see some of these celebrities actually having their own brand? Not only have they come out of their cannabis closets, but they have catered well to cannabis lovers by offering a broad range of quality herbs meant for both recreational and medicinal use.
Related Post
References
Related Post
Cultivation information, and media is given for those of our clients who live in countries where cannabis cultivation is decriminalised or legal, or to those that operate within a licensed model. We encourage all readers to be aware of their local laws and to ensure they do not break them.